Wednesday, February 8th is an Early Release Day!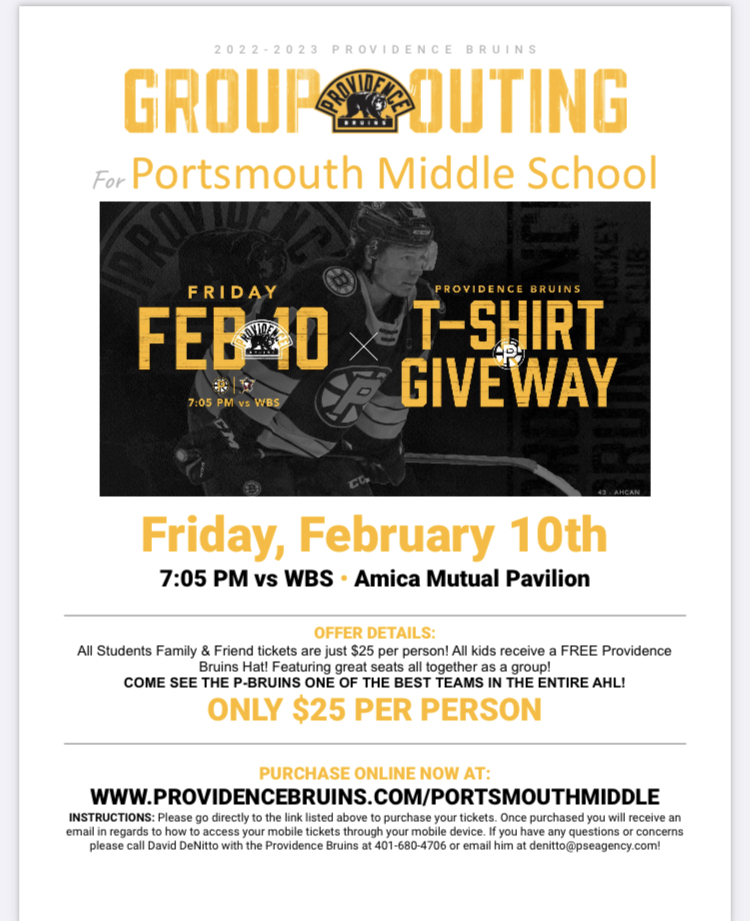 Save the Date: PMS STEAM Night & Good Night Lights. February 9th 6:00-8:00pm

Wednesday, January 11th - EARLY RELEASE DAY!! PMS dismisses at 1:25pm

Chorus Concert tonight! Students report at 5:30. Concert is at 6:00pm.

Pawsitive Vibes Club is accepting donations for our local pet shelter. Items we are looking for are food, blankets, pet beds, toys, treats.... All items can be dropped of in our main office.

Food Drive - We are collecting non-perishable food for St. John's Lodge. Please drop of any donations to our front office by November 16th.

Auditions for the PMS Musical - Moana, Jr. are Wednesday, November 9th for Grades 6 & 8 and Thursday, November 10th for Grades 5 & 7. Auditions run from 3-5pm. Please have your student check the UA Google Classroom for details and sign up information.

PMS Halloween Rec Night - October 28th. 5:30-8:00pm. Tickets are $5 each. Tickets will be sold starting Monday, October 24th at student lunch times.

Scholastic Book Fair Students will visit the fair during ELA classes next week. All for Book donations will support the Portsmouth Middle School Library so all students can access the books. If paying by check, please make payable to PMS-FAB. Thank you for your support.

PMS PTO Information.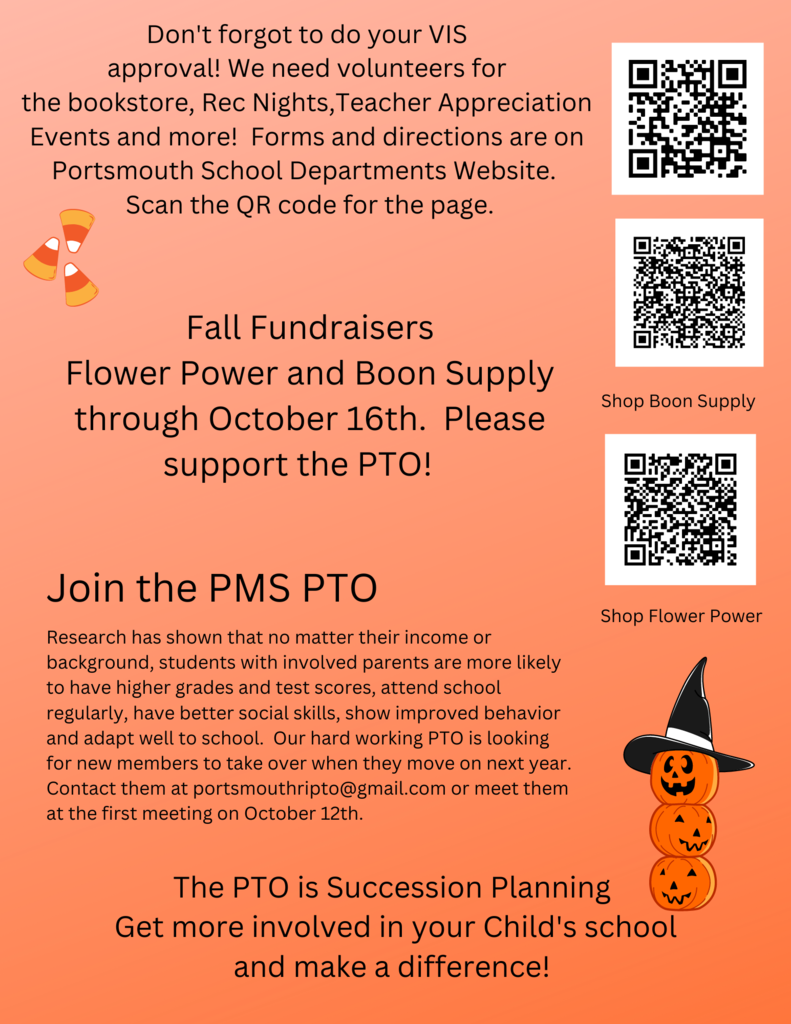 Picture Make-Up Day - Thursday, October 13th. If you purchased pictures, but would like them retaken, please return pictures on Thursday, October 13th.

Scholastic Book Fair Family Night. When: Tuesday, October 18th Where: PMS Little Theater Time: 6:00-7:30pm Buy a book and get a free Grey's Ice Cream Cone! Scooped on site!

Ice Cream Social DATE CHANGE Wednesday, September 14th - 5:30-7:00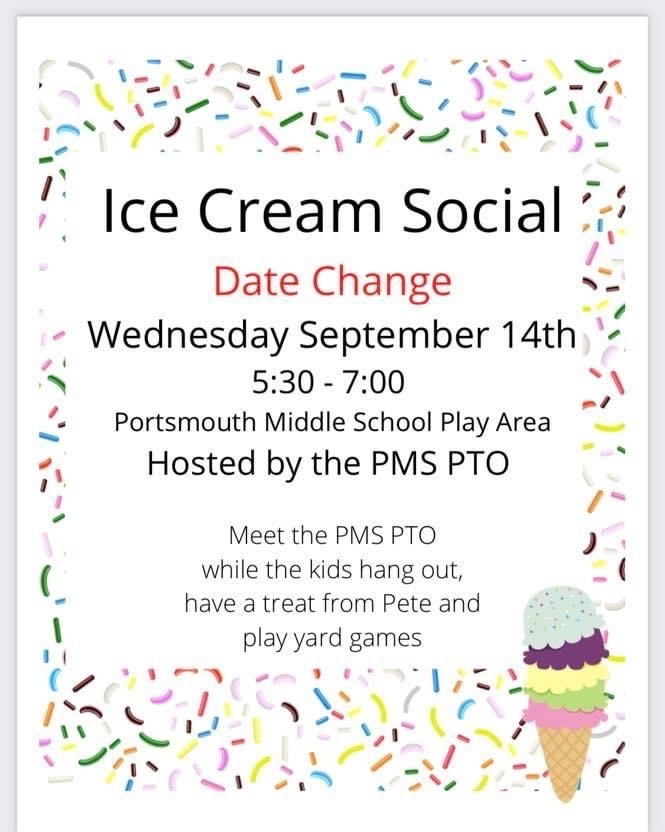 OPEN HOUSE DATES: Grade 5 & 8 - Tuesday, September 20th 5:30-7:30 Grade 6 & 7 - Wednesday, September 21st 5:30-7:30

Please go onto myschoolbucks.com to set up your child's lunch account.

NEW TO THE DISTRICT ORIENTATION All student NEW to the district should report to PMS on Tuesday, August 30th at 9 - 10am for orientation. New to the district students entering Grade 7 & 8 will stay for Math Placement testing.

Chromebook Distribution Night: For Incoming 5th graders & NEW to the district students Wednesday, August 24th @ 5:30pm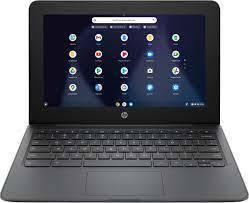 Grade 5 Orientation Information: Date: Tuesday, August 30th Time: 11:00 -2:30

Come and check out the artwork made by the Portsmouth Middle School SmArt Gallery Group! When: Monday, May 23rd Where: Portsmouth Middle School (Front hallway) Time: 5:30 – 7:30 p.m. All proceeds will go to the Fine Arts Boosters! We hope to see you there! The Art Sale will be accepting Cash or Check only.