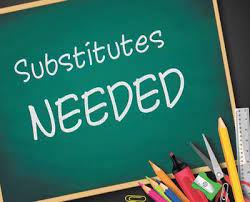 Are you interested in substituting?
If so, please apply on SchoolSpring.com. Your application will be reviewed and you may be contacted to choose an appointment date and time to complete employment paperwork. Prior to your appointment you will need to do the following:
Download and print the Background Check(BCI) Form & Background Check (BCI) Offer of Employment.

Complete the top section of the BCI Form

Make and appointment with the Portsmouth Police Department, your local police department OR visit the RI Attorney General's Office on a walk-in basis during their regular business hours (for expedited service, we strongly recommend visiting the AG's office).

You will need to bring both the BCI Form and Offer of Employment with you, along with photo identification and a processing fee.
Next, you will need to bring the following original documents with you to your selected appointment with the PSD to complete your employment paperwork:
Driver's license and Social Security Card OR

Driver's license and Birth Certificate OR

Unexpired U.S. Passport

Background Check Results
All substitute teachers are allowed to begin subbing upon completion of employment paperwork and approval by the Superintendent. However, all newly hired substitutes are required to attend the next available mandatory pre-employment meeting to remain active. The meeting schedule can be found here.
Our substitute teachers and substitute teacher assistants are expected to follow and administer the regulations and policies of the school department. While we welcome inquiries and applications for substitutes, we do not guarantee regular employment as a substitute teacher or teacher assistant. We maintain an extensive list of approved substitutes as needed, over the course of the school year, we add to this list.
Per RIGL § 28-44-68 Benefit payments for services with nonprofit organizations and educational institutions and governmental entities, substitutes may not be eligible for unemployment insurance benefits drawn on school district wages during any scheduled school breaks including, but not limited to, the summer, winter, holiday and spring breaks and there is a reasonable assurance that they will perform services in the period immediately following the vacation period or holiday recess.